Smithfield Cattle Company is a family owned cattle operation that grows and markets cattle both domestically and internationally, located in Proston in the South Burnett.
Calling upon three generations of experience, Smithfield delivers first class cattle performance and is recognised as one of the leading cattle companies in Australia. They have two feedlots located in Smithfield Proston (20,000 head of cattle) and Sapphire Goondiwindi (15,000 going on 20,000 head), where they facilitate feed lotting, crop production, cattle grazing and consulting.
Smithfield Cattle Company has had silo storage systems for many years. Their involvement with Allied Grain Systems began in 2019 when they purchased 4,000 tonnes of grain storage along with a 75-tonne garner bin and 150 tonne/hour elevator with an eight-way head.
Jason Shearer-Smith, Managing Director of Smithfield, says they've been operating the system for six months now and it's been working perfectly with their existing system.
When considering more silo storage there were many ideas and concepts Jason and his team reviewed.
"Allied Grain Systems, by far, was the best at designing a simple, reliable, high-capacity system at a competitive price," says Jason.
"The storage system will allow key opportunities such as faster unloading and greater capacity to better manage our harvest.
"We spoke to many manufactures for ideas and concepts; we drew on Allied Grain Systems' experience of operating grain handling systems over the last 35 years.
"We chose to work with Allied because John White [Director] was excellent to deal with and the company was very cost competitive."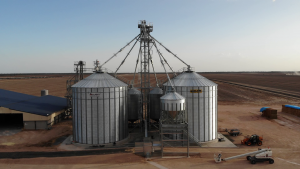 Why does this investment make economic sense for the Smithfield Cattle Company?
The team handles roughly 50,000 tonnes per year with their grain storage system, and they estimate it will grow to 70,000 tonnes annually from the end of 2020.
Jason was after something quick, reliable and easy to use to facilitate this growth.
"It's only early days however the quality of the equipment should keep our R and M costs to a minimum," he says.
How would Jason describe his experience with the Allied Team?
"Everyone has been excellent; John and Ken with design, Muz with the concrete, and the construction crew were truly professional and easy to get along with.
"Our Allied Grain handling system is a quality well-designed system that we are really proud of."
Read Jason Shearer Smith's Mates in Grain profile here!
Learn more about the Smithfield Cattle Company here.