Emme is from a small town called Bendick Murrell, located near Young NSW. She's grown up on a cropping and sheep property her entire life, igniting her passion for the grain industry from a very young age, with her dad and grandfather running the farm side by side.
Currently studying to be a vet at university, Emme spends all her spare time working on the property. The family grows wheat, canola, barely, oats and lupins. So far, their season has been very dry, but notes other families and farmers have had it much worse
"My favourite part of working on the family farm is watching a crop grow and getting it to harvest," says Emme.
"The most challenging part would be the drought, and watching it cripple farmers. I want more city folk to better understand the industry and country lifestyles."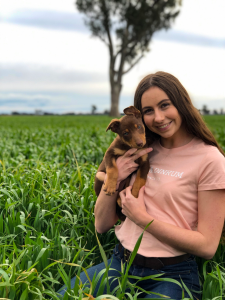 How have advances in technology impacted Emme's farm and the way they work?
Efficiency and effectiveness are top of mind for Emme.
"New technologies are continuing to advance and improve the functionality and productivity of a working farm with reduced labour," she says.
What's Emme's favourite way to spend the day on the farm?
"Doing anything with my entire family," she says.
"Working in the sheep yards is definitely a favourite, or driving the header with a sibling on the chaser bin. Family is a huge part of our property and we value one another greatly."
What words of wisdom would Emme give to someone just starting out on farming?
"Don't be afraid to ask for help and make as many contacts as possible, they may come in handy one day. There is always something new to learn so be open to change and adaptation."
What can Emme rely on her mates for in the grain industry?
"A helping hand if needed, and to share ideas and experiences," she says.