Stuart is the operations manager on his family farm in Mandurama, NSW Central Tablelands alongside his parents where they use the land for dryland cropping and beef breeding and fattening. Born and raised on the Mandurama farms and now 28, he's bringing up his 4-week-old son Henry with fiancé Izzy the best way he knows: on the farm!
Stuart travelled and worked across Australia and the globe in agriculture, and once he completed his farm business management degree at Marcus Oldham and Lincoln University, he returned home in late 2014.
The family farms 600 hectares of crops, including wheat, broadleaf forage mix, Italian ryegrass and canola. They also run 450 Angus breeders and fatten 1000 steers (both their own breed and trade animals).
For Stuart, the best part about the job is simply growing the goods!
"I love cranking things up and trying to make the most out of the higher rainfall our tablelands environment offers; I get a lot of satisfaction out of harvesting high yielding crops and selling truckloads of fat steers," he says.
Because the team is running a fairly intensive operation, Stuart describes this as driving a formula one racing car: everything is moving quickly so one little turn of the steering wheel and could lead you "into the wall".
"We have to constantly be on the ball with our grazing management and ensuring both our crops and our animals are healthy and performing at their peak," he says.
Despite the widespread drought conditions across NSW in recent years, Stuart says they've been fortunate in Mandurama. Even though the rainfall is below average, the rain they have had has allowed them to keep things ticking along.
"We had some good rain in March 2019 which allowed us to get our grazing crops away early, so we're travelling okay for mid-July as we approach our peak stocking rate."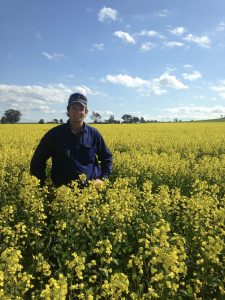 What are Stuart's go-to sources for farm related intel to improve his business?
Stuart says he tries to surround himself with knowledgeable people and learn from them, as well as attend relevant field days and conferences.
He loves Twitter and how it can generate ideas and advice from other farmers online, and he's involved in a number of industry groups such as Nuffield and the NSW Grasslands Society.
What's Stuart's favourite way to spend the day on the farm?
"Riding around on the motorbike with my dog Wendy, checking crops and stock on a sunny day," says Stuart.
"…and making plans for the coming days and weeks – I like to be organised!"
What words of wisdom would Stuart give to someone just starting out in farming?
Stuart says if you're from a farming background, to go and work somewhere else in agriculture to learn how other people run their businesses – "there's more to farming than just the way your farm does it."
He also says to never stop learning, to surround yourself with the right people, and that your attitude is everything.
"It's easy to learn how to workon a farm, but it's very important to learn how to runa farm business."
What can Stuart rely on his mates for in the grain industry?
"I have a lot of mates in the grain industry and I can rely on all of them for good advice on anything – from which varieties to grow to which machinery systems work best to chemical and soil inputs," says Stuart.
"They are a great sounding board for new ideas."