Over the last few months, you would have seen our enthusiasm over the AGI range of X Series Inline and Swing Away Augers and UTX U-Trough Augers.
So how have they performed for the farmers who purchased them for our most recent harvest?
The augers have been specifically designed for Australia's harsh conditions and offer a flexible and versatile way to load and unload grain storage units, field bins and feed out grain to livestock.
They're built tough for harsh environments and make operations more efficient and easier.
But don't just listen to us – hear what Alex from Forbes, NSW had to say about them!
"I purchased the 13inch by 94foot Swing Away Auger last year and it's been absolutely fantastic," says Alex.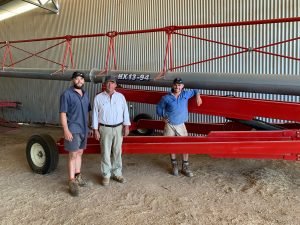 Alex is a 6th generation farmer who runs a mixed farming operation with his Dad Brian and his brother Mitch.
"We were wanting to fill our grain shed. Originally we wanted to put a centre auger in the shed, but it wasn't going to work – so we needed quite a large auger to get in through the roof.
"We went and looked at three different augers in one day. We weren't a fan of the first two, but when we saw what Allied Grain Systems had to offer, we purchased the AGI X Series Swing Away Auger within half an hour.
"We thought the AGI auger was a lot stronger, easier to use, and just a good solid auger. We can unload 40 tonnes in 9 minutes – it's just fantastic.
"You don't need much horsepower for that sized auger. There's no heavy lifting – it's all done from the cab. Everything was up to spec and the Allied team were great to deal with."
If you're starting to think ahead for the 2021 season, be sure to give our On-Farm Manager Dave Markham a buzz to help improve your grain handling operations: 0427 981 583.