The AGI Xtend Swing Away Auger offers the convenience of being able to extend, swing side-to-side and retract, without having to move or reposition the truck.
Designed to be fast and convenient, it was a top seller of Allied Grain Systems in preparation for last year's harvest.
Grant Thomas from Armatree, NSW had just purchased new grain silos for his farming operation and needed an auger to move grain efficiently and effectively.
When talking to Dave Markham, On Farm Manager for Allied, about his new set-up, the quality features paired with an affordable price of the AGI Xtend Auger was what caught Grant's initial attention.  Not much later, he was a new proud owner of the grain handling tool.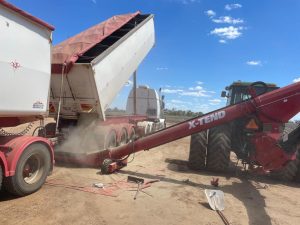 What has Grant's experience been with a 13-inch by 94-foot AGI Xtend Swing Away Auger since purchasing?
"It's been excellent – it works really well for unloading the road train," he says.
"I would absolutely recommend this product to other Australia grain growers – I love how smooth it runs and how good the extender is for sliding in and out for unloading road train."
How does it work?
Once a grain trailer is in position, the swing tube is extended. The power swing moves the low-profile hopper side-to-side, reaching the truck hoppers with ease. The X-Tend then retracts to allow grain trailers to drive away.
If you're starting to think ahead for the 2021 season, be sure to give our On-Farm Manager Dave Markham a buzz to help improve your grain handling operations: 0427 981 583.