Broden Holland is a 3rd generation farmer located 30km north-west of Young, NSW. Alongside his Mum, Dad and two full-time employees, they manage a mixed enterprise that spans across 4,800 hectares.
With 3,800 of those hectares dedicated to growing wheat and canola, the family also run 4,500 merino sheep. The farm started with Broden's Pop decades ago, and although retired now, he still lives on the farm with everyone.
Being located so close to a prominent grain market, Broden's family has always delivered all of their canola and 90% of their wheat to the mill in Young.
"They have storage options for our grain, but we've wanted to be able to store it on our own farm for a while, too."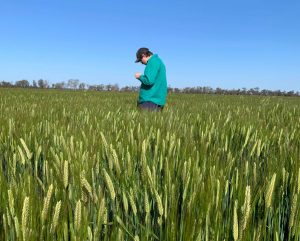 Years ago they ran chooks on-farm, and since leasing them in 2013 the family has been able to use the existing 2000T of storage – however it was spread across lots of small silos and grain sheds, creating lots of work.
It took Broden and his family some time to justify installing quality grain storage on-farm when they were so close to the market, especially when they have effective freight out of their site.
In 2016 the family harvested their largest crop they'd ever had. With limited storage on-farm and delayed time waiting for trucks, the crew were needing to make large piles of grain on the ground so they could keep moving. That makes a lot of work for picking it all up!
With the 2020 harvest breaking that record, Broden's thankful they installed quality grain silos within the nick of time.
Broden's Dad knew John White, Director of Allied Grain Systems, from around town. One day the family went to look through the shed at the Allied Grain HQ in Young and loved what they saw.
"We wanted to keep it local. We didn't even get prices anywhere else – we knew Allied Grain were the brand for us instantly."
Broden's thinking behind equating how much storage they'd need was to look towards the future.
"Often we build too small, so I started thinking in terms of how much storage we'll need in 10 years' time," he explains.
They settled on 3x 2000T silos as well as a 13inch by 114foot AGI Xtend Auger. Everything was installed on-farm towards the end of 2020 and was ready to use just as the team were getting the crop off.
How did the most recent harvest turn out for Broden and the farm?
"It was our best by about a tonne to the hectare," says Broden.
"We averaged about 6T to the hectare in wheat, hitting 10,000T for the year – it was the biggest we've ever had by a large amount.
"We had a big storm in the middle of it which threw a spanner in the works, but we got another header in and kept the grain coming off and it was all over pretty quick for how big it was.
"The Allied Grain team would have had all three silos up if that storm didn't hit. We knew it was going to be a tight squeeze, but it all came together in the nick of time.
"All the silo builders did a fantastic job. The thing that hurt the most about that windstorm was seeing the boys put in so much work over four days of putting half a silo up, for it then to get torn to bits. But they were great and got everything up perfect – eventually!"
How has silo storage improved operations for Broden's farm?
"These silos have given us the ease of storage and we don't have to worry about trading grain or pests thanks to the aeration and fumigation seals.
"It improved our harvest logistics immensely. It's given us a lot more flexibility for harvest time and the ability to get our crop off a lot quicker. We don't have to worry about trucks and trying to organise cartage – it just made life very simple."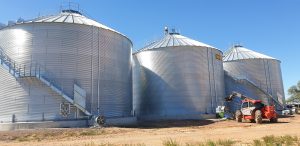 Why does this investment make economic sense for Broden's family business?
"We're in a unique situation because of our freight rates with close markets," explains Broden.
"If you're 200km from your nearest market then it makes a lot more sense to have storage, which was our biggest hesitation of why we haven't bought silos sooner.
"In saying that, harvest logistic-wise, we finished harvest within three weeks – that's one of our quickest harvests and the most tonnes we've ever had.
"We didn't have one hour of down time due to waiting for trucks; we could always get our grain away. Every time a header sits still it's costing you hundreds of dollars an hour.
"It's all the little things people don't often weigh up. With that windstorm it might have blown half the wheat off and we could've lost a lot of grain."
How would Broden describe his experience with the Allied Team?
 "The whole sales team and Dave were all great. It's a credit to them all – very professional and nothing was an issue. There was no beating around the bush.
"We're happy for things to not be as they should be, as long as we get told where we're at and get that communication it's all good.
"If something doesn't go quite right and it's going to be a bit longer, that's fine, as long as we're told. And that's how they worked. We were very impressed."
If you're looking to take your farming operations to the next level, Allied Grain Systems could be the brand for you.
Get in touch with us today for a free quote.
Broden recently featured in our Mates in Grain series – read his ag story here!