Gil Jones runs his own broadacre farming operation alongside his wife Jenny in Turoar, Victoria. Coming from a strong farming background, Gil has only ever seen himself in agriculture.
His grandfather started farming in 1919 at Beulah West, and his father was also in the industry. In 1965 Gil came home to help out on the family farm, and in 1976 he and Jenny went out on their own and purchased their own property, first in WA then Qld, then eventually back in the Mallee north west of Swan Hill.
Gil and Jenny run the farm with their two sons Travis and Ashley. Their third son Ryan is also involved part time, so it is an all-round family concern.
Over the years Gil and his family have stored grain in all sorts – from bunkers back in 1990 to grain bags since 2010.
"These systems are okay for the short term, but we wanted to store grain in cleaner and more sustainable storage systems," says Gil.
"This will give us control over when we sell our grain – instead of having to sell to a falling market to keep headers going at harvest time.
"With Allied Grain Systems' sealed and aerated silos, we know that this will finally be possible."
Gil purchased 4x model 48'-14 sealed silos along with the largest auger Allied has ever sold: the whopping 16 Inch by 125 feet auger.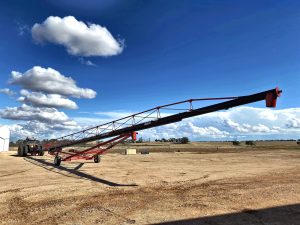 He says they did a lot of research on large grain silos – looking at how heavy they were built, the aeration out-loading systems, the costs involved.
"We also spoke to other silo owners who used Allied Grain Systems and MFS equipment – and they ticked all the boxes for us, so we went with them," says Gll.
Why does this investment make economic sense for Gil's business?
Gil says the new equipment makes harvest time more logical.
"We won't have to work around the grain depot hours and the headers will be able to keep going longer," he says.
"We grow a fair amount of legumes and the prices vary massively, so these silos allow us to store them for as long as we need in order to sell when the market is at a higher price."
Gil outlines that the cost of storage and handling by traditional bulk handlers is another economic benefit for them.
"Any type or grade of grain will be stored at harvest and sold later due to the price at harvest being low.
"We're positive this silo investment will be a great asset for many years to come."
How would Gil describe his experience with the Allied Team?
 Gil says Brian Smith, our On-Farm Storage Manager, was very good. He showed Gil and his family a number of silos that Allied Grain Systems had built a couple of years ago located 50km from their farm.
"He answered all of our questions, and Dave was also great to deal with. They always return calls and follow up on anything we asked about.
"The construction crews were excellent – Ian and Donna with the concreting bases, Michael, Don and Chris and their workmen did a great job – the delivery truck driver was also a top bloke!"
Read Gil's Mates in Grain profile here!