Jamie Latta is a fourth generation farmer in Walpeup, near Ouyen, North West Victoria in Mallee. Together with his father and two younger brothers, he produces a variety of crops on the 50,000 acre property including wheat, barley, canola and lupins. 
Jamie has been in the business of farming for 29 years and understands that to be successful in his industry it takes time and willing.
"It's very long hard hours but the rewards are there if you put the effort in."
Jamie had invested more than a decade in building the ideal on-farm storage capacity to suit his family's operation. He needed additional storage to support his existing set up in streamlining harvest logistics and enhance his marketing options.
"Each time we add to our storage system we investigate all providers and Allied had a very good product for a reasonable price."
"What sold us on Allied was their capacity to provide the infrastructure we were looking for."
"The elevation, conveying, as well as the quality of their silos at the price they were able to do it for."
"Allied offered sealed storage and state of the art aeration systems at an acceptable price."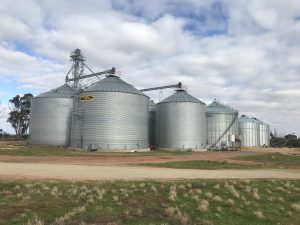 An ambitious and business-minded farmer, Jamie has his mind attuned to what will further his family's enterprise. Thinking about the 20,000 tonne of grain he had across his storage capacity at harvest time, he needed a solution that would enable him to keep up with increasing demand.
"Allied have built me two MFS sealed silos with York and Hutchinson elevation and the capacity to store 2,500 tonne of grain at any one time."
"The new system runs by an automated push button operation to fill and empty silos meaning less staff needed at harvest time and more return on capital."
"The biggest advantage of what Allied has done for us is to allow us to more easily manage segregation at harvest time and facilitated the blending of those segregations when it's time to outload."
So when it came to choosing a new grain storage system that would enhance his existing set up, elevation capability and storage capacity were at the top of Jamie's list. He wanted a solution that would enable him to easily segregate his grain and allow him to maximise his return at market.
"The elevation system that Allied built for us has made the process of segregating different qualities of grain much easier."
"This has, in turn, helped us to take full advantage when it's time to market the different segregations."
"The truck-load chute Allied installed has also made the process of loading our trucks far easier."
Allied Grain Systems have clearly ticked off Jamie's requirements for his new grain storage system but how did he find the overall Allied Grain Systems experience?
"The Allied team were good to work with."
"They designed and built a facility that suited our needs and we've had no trouble with any of their infrastructure."
"We were looking for a solution that would see us able to shift all the grain in a timely fashion at harvest."
"The Allied silos have enabled our headers to work around the clock, keeping the grain away from them and getting harvest done in a timely manner."
"It was a good commission."
Developed by Wright Social for Allied Grain Systems.