John Maudsley, together with his wife Hayley, manages his family's 7,500 acre enterprise Waterfall Farming Company in Westmar.
John balances his time between the family's two properties, the other being a feed lot run primarily by his father and sister in Goomeri.
At his Westmar farm, John produces wheat, chickpeas and barley. He says one of the most satisfying aspects of his job is seeing the food he produces at the culmination of every season.
"When you've got a good crop it's rewarding to see your hard work paid off."
John was storing grain in on-ground bunkers with a capacity to hold around 4,500 tonnes of wheat, but was growing frustrated with ineffective fumigation against insects.
"Without proper sealing the weevils were becoming resistant to the chemicals we were using."
"You need to keep the weevils out of the grain and with gas sealed you get rid of more bugs when you're treating them."
So when it came to looking at a new grain storage system, a proper gas seal was a big factor for John. He wanted a solution that would keep his grain free from insects and his product more profitable at the end point.
"It makes marketing the grain at the other end a lot easier if you know there isn't any insects in it."
"Allied were one of only two manufacturers that were offering a certificate to say their silos were gas sealed."
Insects weren't the only issue with John's existing grain storage set up; efficiency at harvest was another factor in prompting him to invest in a new system.
"The biggest issue was harvest storage."
"Having somewhere to put the grain while we were harvesting."
"There was an awful lot of labour involved with every crop but now with the silo you just put it in there and it's done."
"From Allied Grain Systems we purchased two 2000 tonne flat bottom silos with a spiral staircase and the Australian standard certificate for gas sealed storage."
The Allied silos have given John the efficiency he was craving for his operation. Seeing the potential for long term gain, John is hopeful that his investment will also make a significant difference economically-speaking in the years ahead.
"It's a 50 year investment in a large silo and in the years that I'm paying them off it's equivalent to what it was costing me in storage every other year."
"In a couple of years I'll start to see them paying for themselves."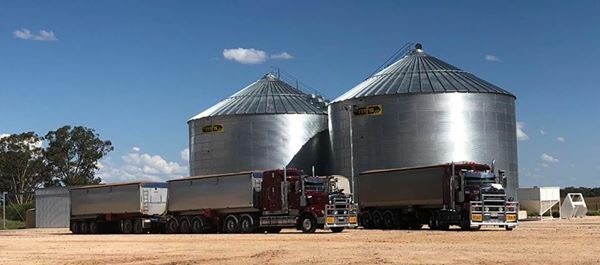 "I'm not saving a lot yet, economically, but I am saving time."
"I'm not outloading trucks from my bunkers all the time in all-weather anymore, now it's all done with an automatic controller so they just start and stop."

"It pretty much looks after itself. I don't even need to be there."
Developed by Wright Social for Allied Grain Systems.