Paul is a grain farmer from West Wyalong, NSW who grows wheat, canola and barely. He and his brother run separate operations but often join together to utilise each other's machinery and labour resources to achieve the best possible results.
Paul attended Ag College in Wagga Wagga, and after working away for a number of years he returned home to the family farm. He now owns his own property and says one of the best parts of the job is being self-employed.
"It's very rewarding, along with trying to maximise crops on the land that we have available."
So far, the season hasn't been too bad for Paul. They've had just enough rain to keep the crops ticking along, and their moisture levels have been sufficient enough to get them through – but not enough to keep them going until spring. They're in need of substantial rainfall, otherwise things can go backwards quickly.
Paul is a trained agronomist, and he says his favourite way to spend a day on the farm is by crop monitoring to examine what he can do to improve his yields.
Prior to having the ability to store grain, everything Paul and his team would harvest needed to be delivered within a certain amount of time.
"We've always had some elevated storage, but only limited tonnage," he says.
They also had limitations when it came to bulk handlers due to limited opening hours or the possibility of them closing down in nearby towns.
Paul knew there was a better way of doing things, and so he started researching the best places for grain silos.
"What was important to me was getting a well-aerated silo with a quality seal.
"I'd heard about Allied through a couple of mates who had installed their equipment, and from my research I thought that Allied was one of the top providers with a well-sealed silo."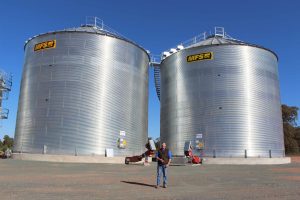 Paul purchased the flat-bottomed silos, which has allowed his team to change their harvest procedures. It's enabled them to capitalise on the fluctuations in grain prices and helps protect them from the drops in pricing.
"We won't necessarily fill the silos every year, but it gives us marketing options and flexibility at harvest."
Paul says his experience with Allied Grain was very seamless.
"Brian's been great with his information flow and answering my questions that I had both at the time of purchase and right throughout the installation.
"I was impressed with the way Allied came back to tick all the boxes and check everything was right.
"Everything was completed to our satisfaction and we're really happy with the job."