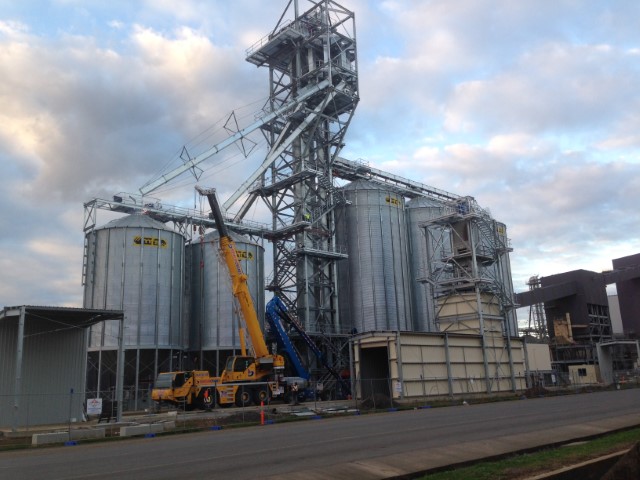 GrainCorp contracted Allied Grain Systems to design and construct one of the biggest capital projects for grain silo storage they have completed in the last 10 years.  This new facility was constructed at GrainCorp's Geelong Port Terminal where the majority of Victoria's grain is exported from.
The project involved the construction of a new sealed grain storage system that can be used for automated fumigation of all grain prior to export.  Fumigation of grain prior to export is becoming increasingly important to exporters as they strive to deliver an insect free grain product to customers worldwide.
The automated fumigation system designed by Allied Grain System is an innovative world first design where the grain mass is measured then the fumigation gas is calculated and injected into the grain mass where the gas is recirculated around the silo to give a comprehensive insect kill.
The storage facility designed by Allied Grain Systems also allows for automated container loading of shipping containers that are to be exported from Geelong.  The container loading system allows B double trucks to drive through an automated loading station specifically designed to weigh and fill containers at a constant flow of around 12 containers per hour.  This system is also an innovative new design specifically for the container export system and enhances GrainCorp's port export infrastructure.
Allied Grain Systems' contract required:
All the preliminary earthworks at the existing site to allow for construction
All civil works including concrete road design and construction and all the silo base foundations – which required over fifty 12-metre-deep piers as the ground condition close to port were found to be quite poor
Design and fabrication of all the structural components including structural elevator towers nominally 50 metres tall
Container loading structures including automated tilting panel operator access to containers on trucks
Construction of three 1500 Tonne and two 500 Tonne conical based gas tight storage silos
Design, construction and implementation of automated fumigation system
Comprehensive grain weighing system
Operator's rooms and facilities
Design and supply of all the conveying system including 50-metre-tall elevators and 200-metre-long 500 TPH elevator
Full electrical package including design installation and automation
This project places Allied Grain Systems as one of the Australia's Premier Grain Storage and Conveying Design and Construction companies.