Matt is a fourth-generation farmer from Crowther, New South Wales. His great grandfather received the original block as a soldier settlement. Now Matt and his wife Amy run the place as a mixed farm, cropping 300 hectares of wheat and canola alongside farming sheep, XB ewes for prime lamb production and a Poll Dorset stud, Rowallan Poll Dorset's. The whole property makes up 1200 hectares, with which Matt and Amy's kids Kaitlin (17) and Nate (12) are a big help.
Matt grew up on the farm and always enjoyed working on it as a kid, especially into his later school years. After some time away working on other farms and studying a farm management course, he felt coming back to the family business was a natural progression. He and Amy took over in 2011, adding another block in 2014.
Matt is also a dedicated member and player of the Young Yabbies Rugby Union Club. Over the years he has played 20 seasons, his first being in 2000. He says he loves challenging himself on the field and outcompeting players from the other team – but also having a beer and catch-up with them after.
"It's something the Yabbies pride themselves on," Matt says.
"It's a great club with top people running it, with healthy playing numbers from Under 6's right through to opens."
He still plays the occasional game, now focusing on coaching the Under 12's and Rowallan Poll Dorset's sponsoring the seniors.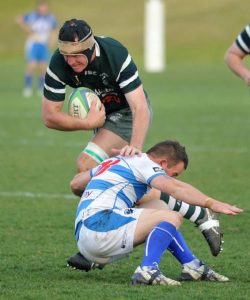 What is one thing Matt is continually striving towards as a grain grower?
While the family fun a mixed farm, Matt says most things revolve around the cropping program.
"It is vital to our stock that the crops are done right so we are constantly striving to improve on what we are doing," says Matt.
"While most of it is pretty simple – like being ready to sow when rain comes, summer weed control and fertilizer applications – it can be easy to get distracted on a mixed farm with other enterprises because they're all important.
"Keeping your eye on the ball is paramount."
What is one thing Matt loves about his job or lifestyle in grain?
Matt takes great satisfaction in running the farm with his family.
"It's very enjoyable to be able to complete these tasks together how and when we want to, weather permitting of course."
What is one thing Matt can always rely on his mates for in the grain industry?
"The most pleasing thing about being a part of the grain industry is that there always seems to be someone somewhere to help out," says Matt.
"From your machinery dealer to agronomist, grain broker to rural supplies store, advice is never far away and always given with the best intentions.
"While we are all at some level about making money it's nice knowing that people want to help you out first and foremost."