Will Coulton is a fourth-generation farmer in North Star, NSW. With the help of his family and 14 fulltime staff, he produces a variety of crops on the 12,000-hectare property—including wheat, chickpeas, cotton, barley and sorghum.
While Will left the farm briefly to attend university, it's obvious he was committed to the farming lifestyle from a young age. He says the best part of the job is keeping up with the changing conditions.
"I've always loved it," Will says.
"The beauty of our operation is that it's always changing."
"We've got both winter and summer cropping, both dryland and irrigation, and we've got cattle as well."
"There are so many different aspects of the job."
An ambitious young farmer, Will has his eyes fixed firmly on the future of his family's enterprise. He saw how the farm's inadequate infrastructure was restricting current and future success.
"One thing I'm always striving for is efficiency," he says.
"A good yield comes from a good plan and vision to get jobs done on time, the right way."
"We had small, outdated, inefficient and unhygienic silos scattered across multiple properties."
"This made it hard logistically, but also management-wise, for storing grain."
Not only was Will's existing grain storage system inefficient, but it resulted in a significant reduction in profit when problems arose.
"All our grain ends up in Brisbane and we cart it there ourselves," Will says.
"Obviously arriving with weevils or the wrong specs is very costly."
"We couldn't do it anymore. Our old silos were just too outdated."
But choosing a new grain storage system is easier said than done. Will found the market was saturated with different options, so he turned to his mates for advice.
"I'm fortunate enough to be in an area where private grain storage has been used for a long time," Will says.
"Between us all we can have a good discussion about varies layouts and bounce ideas around."
"I talked to mates who have already put storage systems in, and picked their brains about it."
"There are so many options, and every option is no small financial investment. The financial investment is cheap if it is right, but expensive if it is wrong".
After careful consideration, Will chose to install three flat-bottomed silos from Allied Grain Systems. The new silos have exceeded strenuous pressure tests, come fitted with two sets of spiral staircases for easy access and store an impressive 4650 tonnes of wheat.
Will says that while there wasn't a huge price distinction between companies, it was evident that with AGS there was greater value for money.
"I just think Allied offered a superior silo," Will says.
"The team were great to talk to and included a few options that the competition didn't."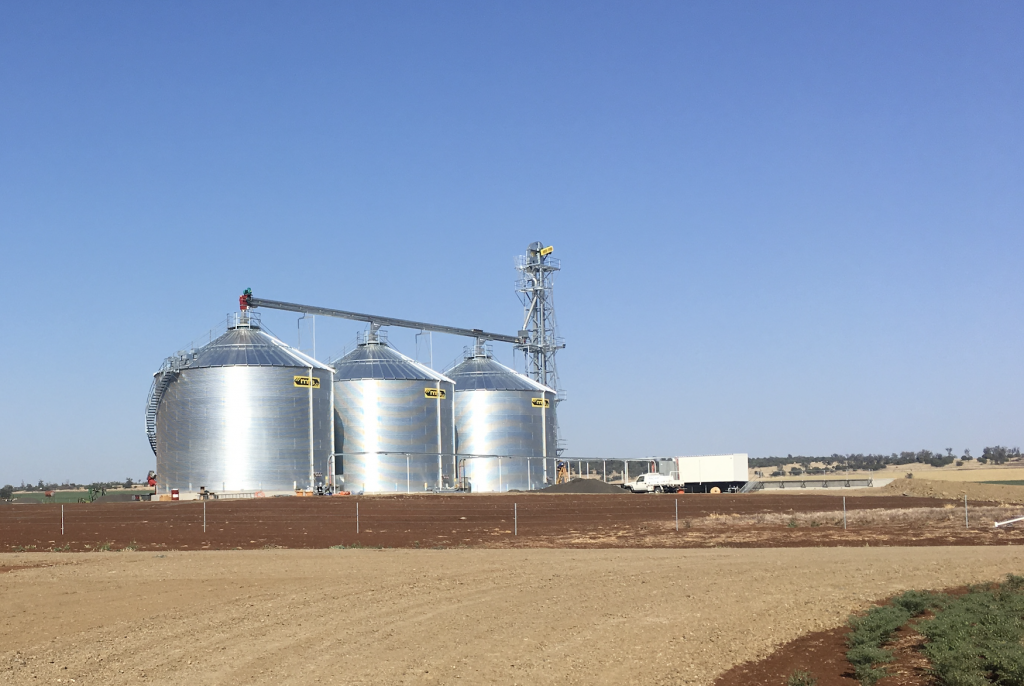 For example, Hutchinson double run grain pumps meant Will's silos were built without costly overhead walkways. Instead, they are self-supporting, allowing access to outlet valves via silo roof access ladders.
The product has certainly lived up to expectations so far—the simple push-button method of filling and emptying silos has allowed Coulton Farming to reduce the number of staff at harvest. Despite a poor winter last season, Will is hopeful that the investment will make a big difference in years to come.
"The new silos give us reliability, allowing headers to continue harvesting and having that capacity to store grain away," he says.
"It allows us to store grain in a cool and dry and clean environment."
Indeed, the sealed and aerated silos allow grain to be stored and preserved as effectively as possible, maximising the opportunity to reap top dollar.
With Allied Grain Systems' (AGS) new installation, Coulton Farming can now unload trucks, load from their silos and blend grain at a rate of 260 tph on wheat.
"It's more efficient now—our trucks have better flexibility so we can cart grain down to Brisbane whenever we want to," Will says.
"I know this system is going to work really well."